 Here you can find information on Australia's native stingless bees. Read Stingless Bees FAQS for a response to the most common questions about our little friends. Also check out our Events page for a list of upcoming native bee related events such as workshops and seminars, and check out our Facebook page for regular updates. The most comprehensive source of information though, is our new book.
You can also learn about and buy a range of stingless bee keeping products on this site, including a hive stocked with bees, empty hive boxes, tools, propolis, and more. If you need help with your bees, please see our Services page for ways that we can work together.
At this stage in the 2020 pandemic, Sugarbag Bees remains open for business. Our operating procedures have changed to minimise contact between employees and customers.
Online services are operating normally. View our products here: https://sugarbag.net/products
Our business is open to customers to collect their order, provided a booking has been made. We only have one staff member and one customer present at any one time. Contact between staff member and customer is maintained at a minimum of 1.5 m.
We continue to provide beekeeping services to customers at their location following a conversation to determine whether distancing can be achieved. View our services here: https://sugarbag.net/services
Stingless bees provide much pleasure and satisfaction to many people and we are committed to providing that service while it fits within official guidelines and our own high standards of safety for all.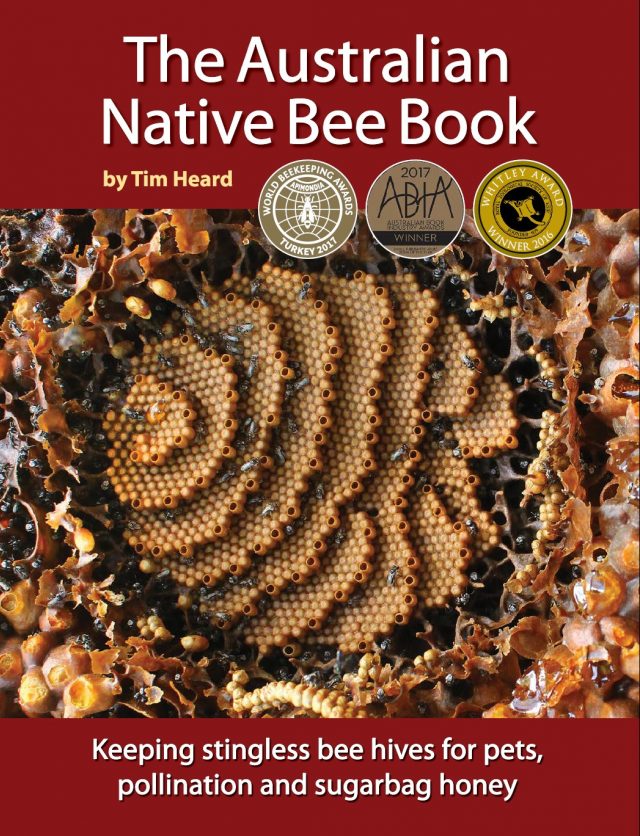 The Australian Native Bee Book
by Tim Heard
$35
The Australian Native Bee Book describes native bees generally and provides a complete guide to keeping Australian native stingless bees. It is richly illustrated with over 500 photos, drawings and charts to increase accessibility and aid learning. It is written by an expert who has spent his lifetime intimately engaged with these unique creatures.

Multi-award winner:
- Gold Medal Winner Apimondia World Beekeeping Award (2017)
- Winner of Australian Book Industry Award (2017)
- Winner of Whitley Award for Australasian Zoological Literature (2016)
Visit the Native Bee Book website for more details, stockists and sneak peaks